Heavy Equipment Transport
Throughout Texas
Gritten Trucking Company specializes in heavy equipment transport from Waco, TX to destinations throughout the state. We're capable of hauling a diverse array of equipment quickly and safely, on your schedule. Trust us for complete assistance, including loading and offloading, ground or dock, driven or winched. Reach us today for a free estimate on hauling services.
Request a Quote
Industrial and Construction Equipment Hauling Services
Having your equipment on-site, on-time is vital for every business operation. Whether you're a construction crew or a production factory, Gritten Trucking Company aims to make sure your equipment is transported safely to and from important destinations. Our heavy equipment transport services in Texas encompasses excavation equipment, heavy machinery, vehicles and more.
We work around your schedule, because we know you don't always have time to spare. Contact us at a moment's notice with the logistical details and we'll accommodate them. As soon as we have your information, we'll dispatch transport. We see your satisfaction as our success, which means going above and beyond to meet your needs and expectations.
Contact us today for information about heavy equipment hauling. We're ready to partner with all types of commercial and industrial clients, to handle a wide range of equipment. Rest assured, no matter what we're hauling, it'll be done safely, affordably and quickly.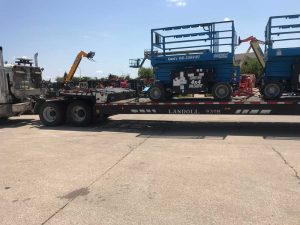 We're exclusively an equipment hauling company and understand the unique needs of our clients. We're available to haul even on short notice, according to your schedule.
Our hauling capabilities max out at 40,000lbs, allowing us to carry a diverse range of equipment for all types of customers.
We price per load, not per piece. This allows you to get the most out of our haulage services and maximize your logistics, keeping costs low.
All our drivers are CDL holders and fully certified to operate our trucks. They're skilled professionals with a track record of excellence and safety.
Our centralized location in Waco, TX allows us to quickly transport equipment to major metropolitan areas, including Dallas-Fort Worth, Houston, Austin and San Antonio, TX.
Swift Equipment Transport
You don't have time to waste in transporting your equipment from one jobsite to another. Contact Gritten Trucking Company to ensure the job is done quickly and safely. Get a quote!
Request a Quote
Proudly offering heavy equipment hauling services to all of Texas.
Dallas, TX
Houston, TX
Midland, TX
Lubbock, TX
Amarillo, TX
Mclennan County, TX
Falls County, TX
San Antonio, TX
Ft. Worth, TX
Waco, TX
Corpus Christi, TX
Galveston, TX
Beaumont, TX
Abilene, TX
Odessa, TX
Austin, TX
Hill County, TX
Limestone County, TX
Bosque County, TX
Bell County, TX
Coryell County, TX
We serve statewide across Texas.